BIG GUN EXHAUSTS
Big Gun is one of the leading ATV, Motocross, UTV and Side-by-side exhaust manufacturer in the USA
BIG GUN EXHAUSTS
Big Gun is one of the leading ATV, Motocross, UTV and Side-by-side exhaust manufacturer in the USA.
Premium Racing Slip-On silencers, full exhaust systems and TFI Electronic Fuel Injection Controllers/Tuners to increase horsepower, torque and performance.
01
ATV AND SIDE-BY-SIDE EXHAUSTS
Big Gun ATV and Side-by-Side racing exhaust systems, mufflers and stainless steel slip-ons increase performance, are much lighter than stock, have sturdy inner stainless steel construction and high quality workmanship. For riders wanting maximum performance from their machines there is no better way to achieve it than by installing complete exhaust system, that´s including headers, midpipes and exhaust tips. Complete exhaust system also drops most of unnecessary weight from your ATV or Side-by-Side. With Big Gun Exhaust you also can reduce noise levels by up to 6 dB using easily removable Vortex Quiet Inserts.
02
MX EXHAUSTS
The quickest and easiest way to achieve more power is tuned exhaust. Big Gun offers racing MX Slip-ons and complete exhaust systems with high power gains. Big Gun Exhaust systems are significantly lighter than stock, improve both power and torque and allow to reduce exhaust noise level by up to 6 dB with easily removable Vortex inserts. Big Gun Exhaust – premium exhaust systems made in the USA.
03
POWER BOX FUEL CONTROLLERS
When installing an aftermarket exhaust, proper tuning is a must. The Big Gun Power Box is a plug-and-play fuel controller that allows you to properly tune your fuel injected motorcycle, ATV or Side x Side in just minutes. Installing a Power Box allows you to get the most out of your aftermarket exhaust and increases throttle response. A Big Gun Power Box helps to cure the lean issue that is run into when installing a higher-flowing exhaust and comes pre-programmed with a middle-of-the-road setting already into it, making it easy to install and go ride.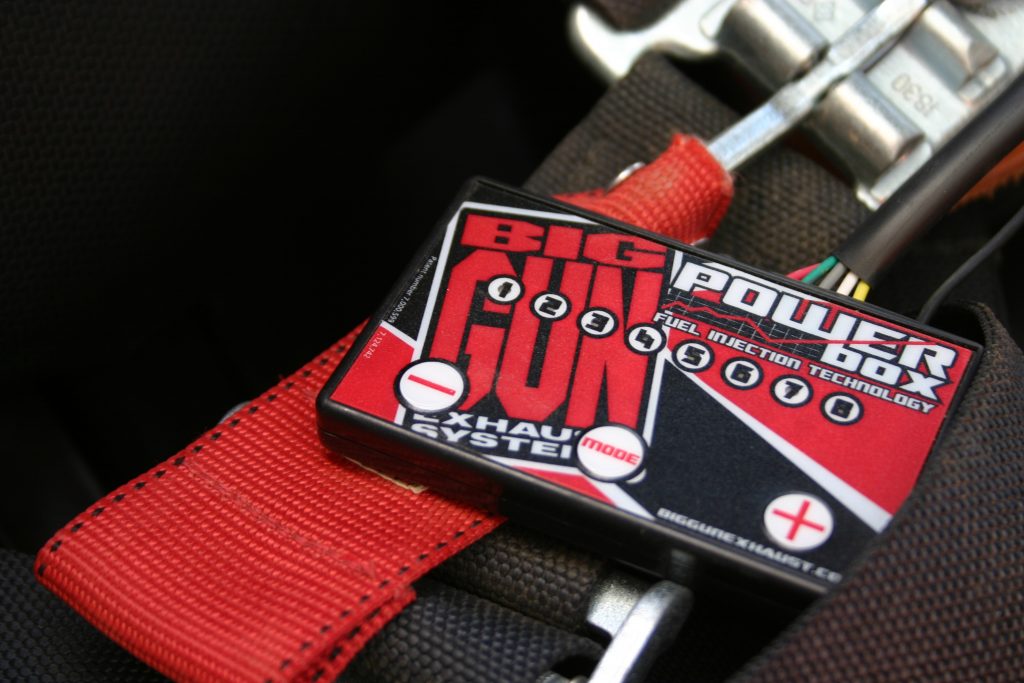 Visit the brand's website
Brands
Discover other brands in the category
Do you want to become a dealer?